by VinylGuitarWraps on Dec.20, 2010, under BOG Clients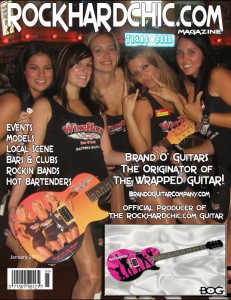 Very Cool!!! Thanks John @ RockHardChic.com….Keep Rockin!!!
RockHardChic.com is a web based media company which features photos, videos, and advertisements of local, national and international, models, venues, and events from all over the world. Our vast social network gives us the opportunity to incorporate cutting edge marketing ideas attract both local and international travelers. RockHardChic.com gives patrons public access to see all of our featured models, venues, and events on one site for free.
We use all the latest sharing links to get you seen by the world:
Our RockHardChic.com Promo Cards are placed at various venues and events which gives our advertisers the opportunity to be seen by patrons who visit other establishments.
The RockHardChic.com comment blog gives you the ability to share your specials and upcoming events. Patrons can also share their comments.
A Google map is also provided to your venue or event so patrons can easily find your business from anywhere in the world.
Advertise your event or business on www.RockHardChic.com! Contact John@RockHardChic.com today!